EMERALD MILES 2020 IS NOW A VIRTUAL WALK/RUN
We hope everyone is staying safe and healthy during these uniquely challenging times. We wanted to take some time and update you on the Emerald Miles Race.
While we were very excited to bring you a different version of the race on May 15th, as the COVID-19 situation has progressed, it's become clear that we will not safely be able to hold the in person race. With many of our participants being medically compromised due to epilepsy and/or other co-morbidities, we have to put the safety and well being of our participants as a top priority. It is with much sadness that we are cancelling the in-person Emerald Miles event for 2020. HOWEVER, the virtual event will go on!!!!
When we first announced we were postponing Emerald Miles to May 15th, we created a virtual race option for those who could not attend on the new day and time. We hope that you will be able to help us raise epilepsy awareness through this virtual event and we are working on creating a website to connect everyone. We will send out an update once the site is up and running. We also realize that not everyone may be able or interested in participating in a virtual event, so you also have the option of changing your registration fee to a donation.
If you choose this option, we will send you a donor acknowledgement/thank you letter that can be used for tax purposes. You will have to let us know which option you would like through the registration page. Your registration will automatically be changed to the virtual event (unless you note that you would prefer a donation) but you will have to go to the registration page to opt in to upload your race results via text, email, or through the website.
As most of you know, we rely heavily on events such as Emerald Miles to fund our vital programs and services we provide to our community and just like you, we are concerned as to what the next few months will hold for our economy. So we hope that you can understand why we are unable to offer refunds – as we not only lose the registration fee but we also have to pay a refund fee as well. This creates a huge financial strain for our agency and limits our ability of offer our free programs and services to those who so desperately need them.
If you have not yet picked up your Emerald Miles shirt, we want to make sure you are able to, especially if you would like to wear your shirt during the virtual event. We will be here to hand out the t-shirts beginning May 11th. We will need you to call our office prior to coming to the office. When you call, please tell us the names of the individuals you are picking up shirts for, and we will get the shirts ready. Once you arrive here at the office, please call us from your car and we will bring the shirts out to you. Thank you for your support and understanding during this difficult time. Stay safe and we look forward to seeing you a future events!
Registration is open!
https://runsignup.com/Race/KY/Newport/EmeraldMiles5KRunWalk
Course Map
2019 Race Pictures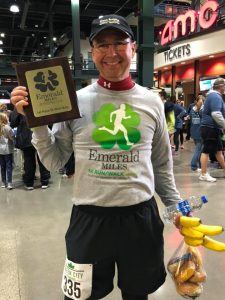 A BIG Thank you to our 2020 sponsors!!
Dole, Greenwich Biosciences, UCB,  Newport On The Levee, UC Health, La Soupe,



Looking for your 2019 race time? Here is the link:http://www.timingspot.com